Despite twenty-four hours of travel, we wake up at dawn, punched in the face by jet-lag.
We have a hearty breakfast. Our hotel is super Bitcoin friendly and is a little oasis of peace in the chaos of San Salvador. It has a large garden, overflowing with lush, tropical vegetation, where it is nice to relax and sip coffee.
For anyone who comes to El Salvador and wants to live in Bitcoin, the priority is one and only one: connectivity. Bitcoin is the internet's money and it depends on the internet. Our Italian SIM cards here are dead, unusable because roaming is so expensive. My phone company warns me by SMS as soon as we land that the cost of browsing will be 2€ per Mb. Practically a rip-off.
The mission of the day then is to get local SIM cards, of course paying for them in Bitcoin.
We try to get our bearings with Google Maps using the hotel's wi-fi, download a list of nearby phone stores, and set off to explore.
We do not have to walk very long to realize that we have miscalculated very badly: all around us every store is closed.
We stop a passerby to ask for an explanation and he replies, almost laughing, that today is "el dia del Los Muertos" and that it is a national holiday, we will surely find everything closed except for a large shopping center down the street.
We realize that this is our only hope and we walk on.
As we approach we come across the start of a running race, perhaps a marathon. The runners are wearing colorful T-shirts with the floral patterns and large Mexican skulls typical of this holiday. Many of them also have their faces made up as dead. There is music, there is food, there is celebration. We get caught up in the merriment and for a few minutes we blend into the crowd, looking at the merchandise on the stalls and taking pictures.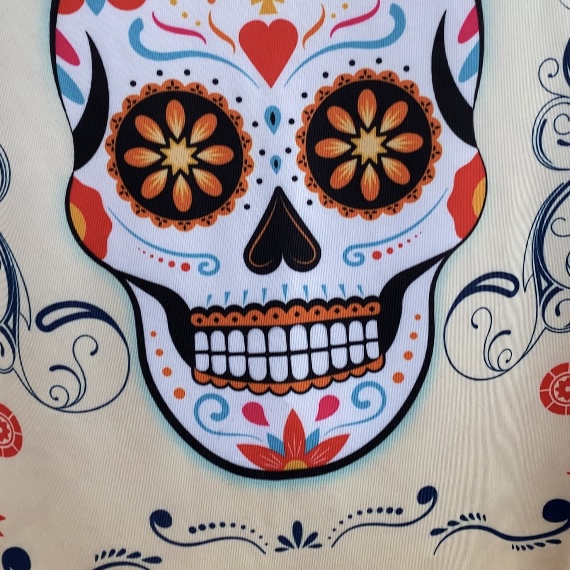 When we reach the mall it is actually open but not all the stores inside are. The phone company one, of course, is closed. We ask about it and are told that there is a pharmacy open that also sells phone SIM cards. This surprises us, but it is worth a try. We go in and it is true, the phone company's logo is prominently displayed on the center counter. We ask if we can buy three of them and pay for them in Bitcoin, but the clerk replies that they only accept cash. Too bad.
Meanwhile, we get hungry and notice that several restaurants have the Bitcoin and Strike logos on the windows. We can use the mall's free wi-fi so we choose one, and go inside. We let the waiter know that we want to eat but can only pay with our bitcoins. He seats us, and as we sit down we anticipate the excellent Mexican cuisine that we see on other customers' plates. Something is wrong, however, because we see the waiter lingering and confabulating with the restaurant cashier. After several minutes he approaches us and disconsolately tells us that it is no longer possible to pay in Bitcoin. They accepted them for a few months but then gave up. Too complicated and too few transactions. We get up and leave disappointed.
We find another restaurant not far away. This time we make sure that we can actually use bitcoin, they guarantee it, and they seat us. The food is not great but we cannot be picky.
Upon settling the bill we approach the cashier and see the panic on the cashier's face. He leans over to pull a tablet out of a drawer that is all dusty. The battery is completely dead and asks us for some patience because it needs to recharge a bit first. He apologizes and tells us that they have hardly ever used it. No one asks to pay in bitcoin. When the tablet activates there is still a problem, no one remembers the pin to unlock it. A series of phone calls start, we assume with the owner of the establishment. We finally make it, they use BTCPay Server and the Lightning transaction is rather quick.
We return to the hotel a bit shaken. We did not expect such a complicated start to the adventure.
For dinner we choose the restaurant inside the hotel. We already stayed here last year and we remember well that although it was a different management from the hotel, they too accepted Bitcoin.
Dinner is delicious but when it comes time to pay the bill, here comes the cold shower. They, too, have stopped accepting Bitcoin. We apologize for not asking right away and agree with the property, we will settle our bill at the hotel, when we check out and this time yes, we will pay in Bitcoin.
We are only at the beginning of the trip and it is too early to draw any conclusions, but if the good day dawns it will be more complicated than expected.