Today there are no more excuses. We need the Internet. We need to find SIM cards. Absolutely.
We devote the morning to taking care of some of the work that has piled up. Those who sit on the other side of the monitor, or the smartphone, often ignore how much effort and dedication it takes to create quality content. Vlogs, articles, social media posts and graphics, this very journal you are reading, are things that take hours and hours of work. From preparation to final realization.
We have lunch at the hotel and in the early afternoon we go out and hunt. The stores around us are all open and the city is back to the urban chaos we remember so well. We are walking around blind because our phones are not connected so we decide to play it safe and go back to those phone stores we had already spotted yesterday but found closed. There are four or five in total but none of them accept Bitcoin. We are very amazed; last year, we chronicled, it had taken us less than an hour to find SIM cards. Maybe the area was different, more popular than where we are today and therefore more interested in not losing customers and accepting Bitcoin, maybe we are out of luck this year, or something in El Salvador has changed in terms of adoption, and not for the better.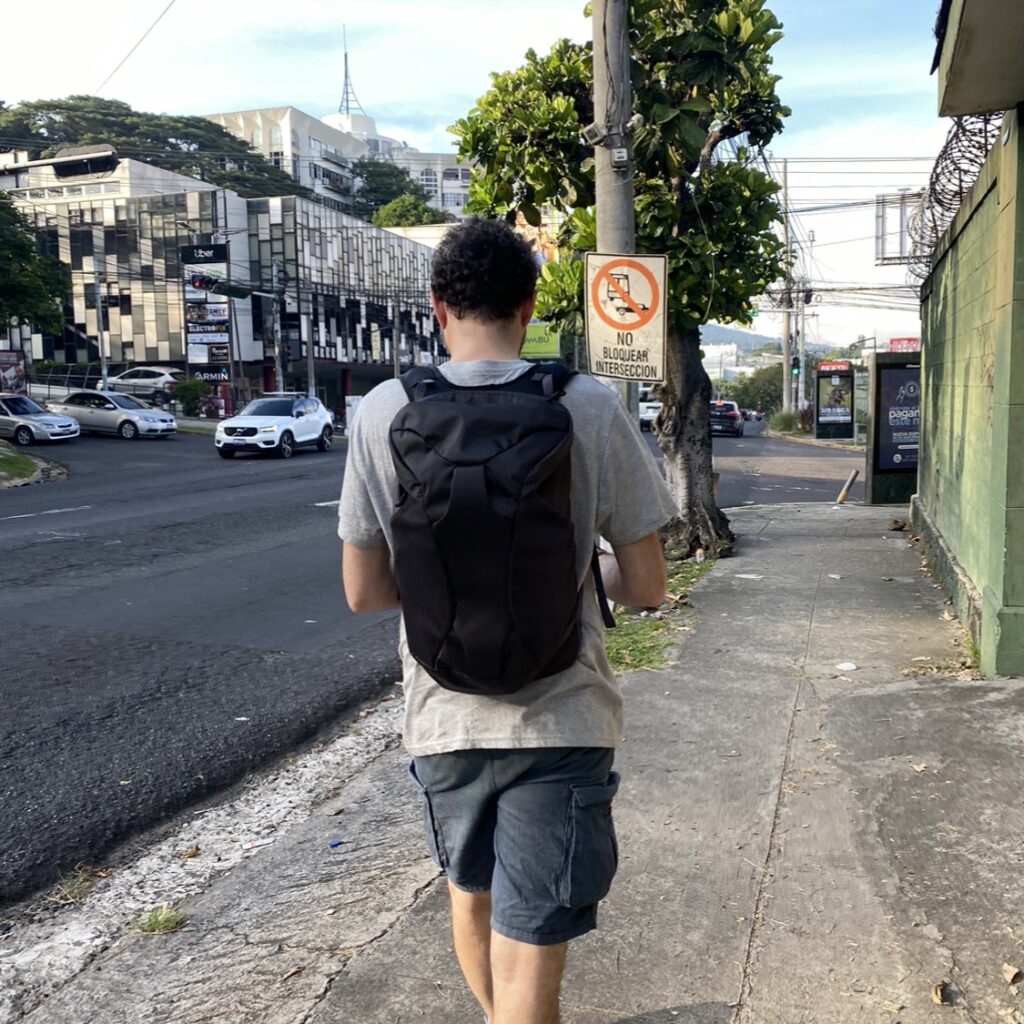 The last shopkeeper is very nice and recommends a large shopping center, in the center of Colonia Escalon, one of the city's vital ganglia. He has us connect to his wi-fi and set up the navigator. It is a bit far but worth a try. We know it's our best bet because he told us that there are kiosks and stores there for every phone operator in El Salvador. It looks promising.
It takes us a little over forty minutes to get there on foot, the day is a little cloudy and not very hot.
We walk through the entrance to the mall into a large lobby and our faces light up. There must be at least a dozen telephone kiosks. We start asking. We don't give a damn about the rates or phone plans offered by the various companies-all we need is connectivity. Unfortunately, however, no one wants our bitcoins. There is nothing we can do.
We go upstairs and then upstairs again. There are dozens of little bars selling phone recharges, cheap smartphones, accessories and electronics. But no dice. When we say we can only pay in bitcoin they look at us in amazement. They are very polite and almost all apologize. But they react as if the very word Bitcoin is something that belongs to a distant memory. Something they haven't heard of in a very long time. When we ask if they happen to have a Chivo wallet with which to make a transaction they shake their heads apologizing again. How is this possible?
On the top floor, however, are the companies' actual stores. Big showrooms all lit up and packed with staff. This is it this time, we think.
We go straight in from Claro, the phone giant here in Central America, but they reply that they can sell the top-ups in Bitcoin but they can't do the activations, sell us the SIM cards. Corporate policies, apparently. We try the big Tigo store, by Movistar, but nothing.
Our last resort is called Digicel, and we feel like we're going to faint when we see the Bitcoin logo hanging on the cash register. We immediately ask if we can use it to buy three SIM cards. The saleswoman is surprised, asks her superior, but the answer is affirmative.
Mind you, this will not be an easy thing. One will have to engage the entire store to start the company tablet where the Chivo wallet is installed. Forgotten for weeks if not months. But the lightning transaction goes through.
We did it: we are connected.