Have we already written that we love Santa Ana?
Well let us reiterate it.
We have a favorite place in town called Casa Verde. On paper it's a hostel, but in reality it's so much more, it's hotel, it's bar, it's community center. It's a very special place. If you happen to be in the area it is definitely the first place to try and stay. Say hello to Carlos, the owner, tell him you also pay in Bitcoin and that Rikki and Laura sent you.
The city is always stunning, with its mix of somewhat decadent colonial colors and architecture. It is smaller than San Salvador and that is good. It is much more livable.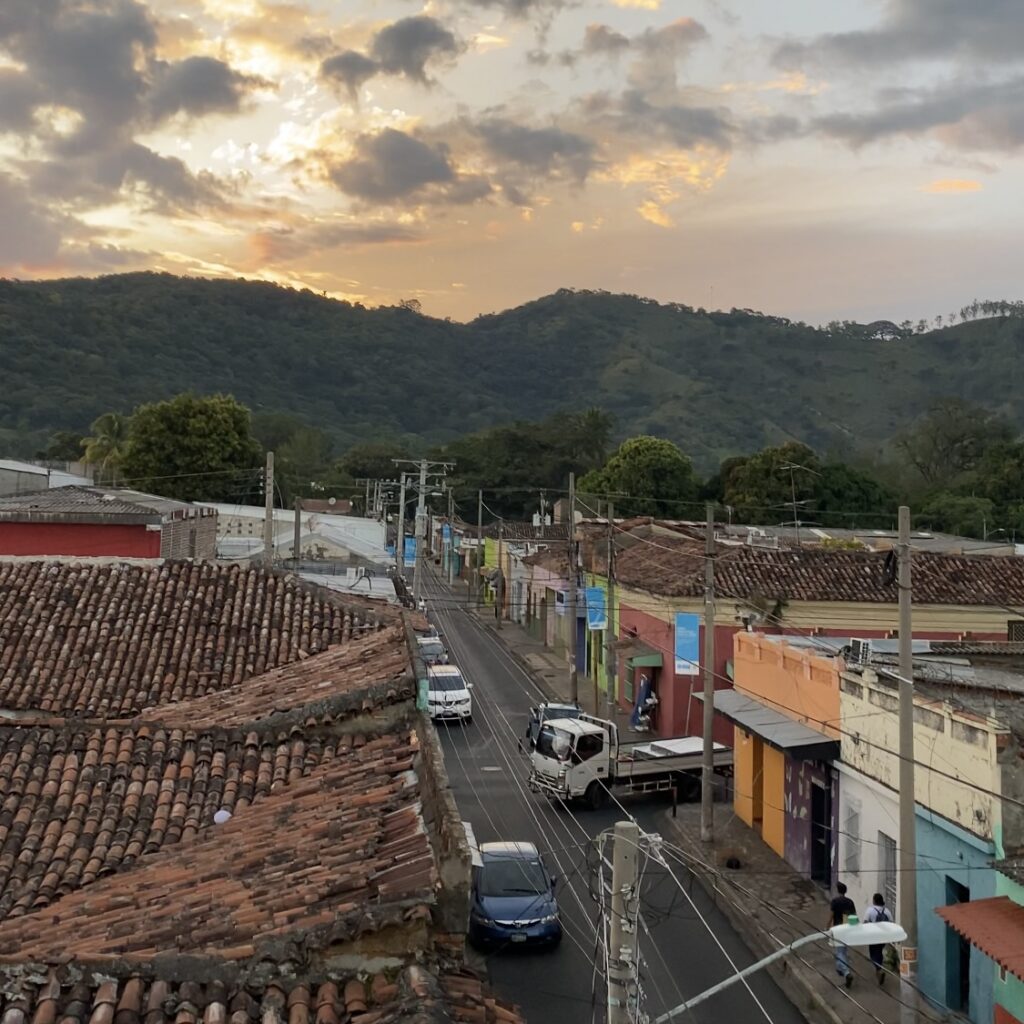 Whenever we go there we always end up having a great time mingling with the people. Near the central square there is a street market that is a beauty. All the picturesque streets are dotted with stalls selling literally everything. Browsing around them is a pleasure. Pay no attention to the curious glances of the locals, the giggles of the kids. They are still not quite used to seeing foreigners here. If they do it is because you are a novelty here, something you don't see every day. And after all, a little curiosity never killed anyone.
It would come naturally to think that if few people accept Bitcoin in the larger and more cosmopolitan San Salvador let alone here. It would seem a logical assumption, but it would also be completely wrong. Try asking in the markets, at the stalls. You will find plenty of small traders with a Chivo wallet in their pocket and a great desire not to lose a customer (from whom they can perhaps squeeze a few extra dollars). You will see them ready to put themselves on the line. To take risks, from their point of view. Mind you, you will probably be their first transaction; you will have to teach them what to do from scratch. Literally, what buttons to press, where is the option for lightning transactions. Everything.
We spend hours wandering the streets of downtown. The weather here then is perfect, hot in the days but always cool and breezy in the evenings. Even in the hottest months Santa Ana has a pleasant temperature range. In short, you must come here. We guarantee.
After buying tubes of toothpaste, a lighter (even here we can't keep from losing them all the time) and Mexican-style tortillas at the street stalls, and after making some young street vendor happy with his first lightnings, we inevitably end up in the central plaza, Plaza de la Libertad. It is truly the beating heart of the community. Always crowded. Always elegant and beautiful, with its early twentieth-century buildings, the National Theater, in pure Art Nouveau style, the municipal palace and the snow-white cathedral, the most beautiful in all of El Salvador, they say.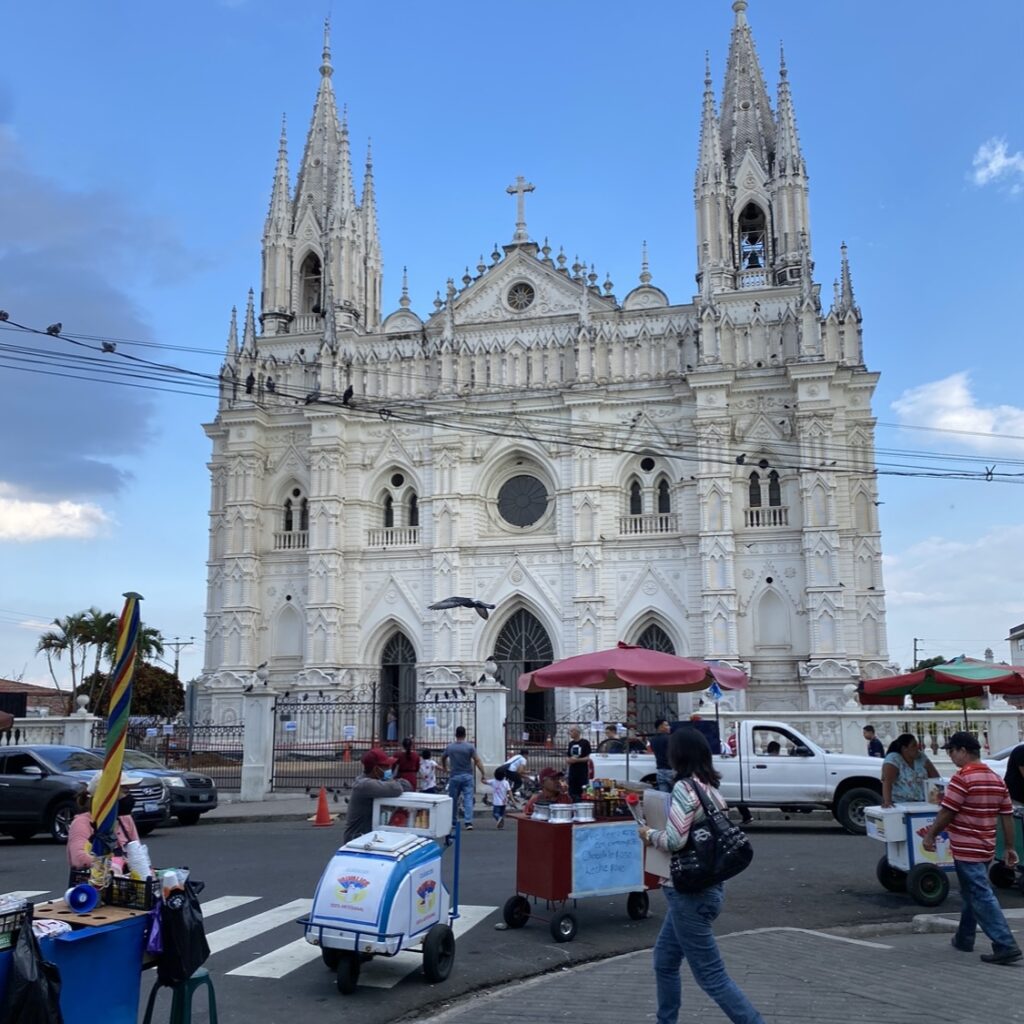 Today, however, the square is particularly chaotic and teeming with activity. They are setting up a large stage, tuning instruments, lining rows and rows of chairs. It is evident that there will soon be a concert here. We approach to snoop around attracted to the scene like two moths. As we approach, a somewhat ruby-haired gentleman in his 60s sees us and approaches. He is the director of the youth philharmonic, he tells us, and explains that tonight there will be a symphonic rock event. The young musicians will blend the melodies of their classical instruments with a local rock band, performing covers of great metal classics with symphonic arrangements. He begs us not to miss the show, telling us it will be at 6 p.m. He is happy to see two out-of-towners and you can tell by his genuine insistence that he cares.
That face, that attitude, we've seen it before. It is that deep desire to show someone who, like us, comes from afar that there is also another El Salvador. That it is not made of violence and poverty. But it is made up of people like any other, capable of studying, organizing, playing, performing, dancing. It is an opportunity for redemption. We are honoring them with our presence and our sincere interest. And they want to prove themselves. It's an attitude that grabs you in the gut, believe me.
We accept it willingly.
We return at the agreed time and they even reserved two seats for us in the third row, behind the authorities. The show was everything we would have expected. Beautiful, sincere, genuine, moving and musically much improvable.
Well done guys, we are rooting for you, if you do it again next year and we are in the area we will definitely be back.